This is the description of ME-1803THT 1.8m three 5113 print heads digital sublimation printer
Specifications:
Features:
anvantages of 5113 piezoelectric inkjet methods
1.number of nozzles:5113 print head has 8 rows nozzle,400 nozzles in a single row.each print head has 3200 nozzles,while epson dx5 only has 1440 nozzles.
2.print head width:5113 print head effective width is 1.3 inch,which is more than 30% wider comparing with dx5 and dx7
3.speed capability:with 5113 print head,digital inkjet printer can achieve 3 pass high-speed printing.the speed of one print head is up to 30sqm/hour.
1.Piezoelectric Print Head Variable Ink Droplet
With double Epson DX5 print heads of parallelogram layout, as well as 1440 nozzles for each print head, performs excellently in higher speed and high quality output in 1440dpi.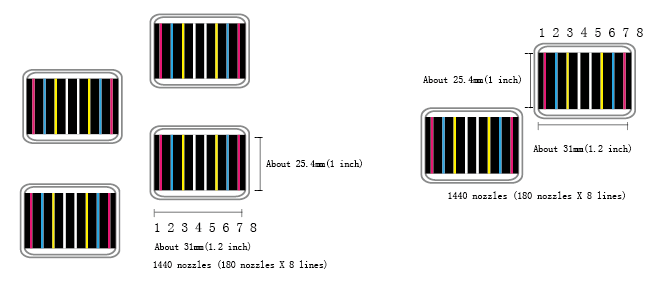 2.Various Color Optional for Perfect Output
Beside CMYK, LC, LM, OR and GR are available also. LC and LM ensure better gradient color and recognition accuracy. OR and GR enhance the color's control performance and layers.


3.Perfect Experience of Media Feeding & Rolling system
Adopts media fixing device to ensure smooth media feeding and rolling, at the meanwhile, the rolling bar is adjustable anytime, and the media tension bar enables media to enter rolling bar smoothly and completely by enhancing the tension of media.
4.User Friendly Mechanical Design
Firm structure enables high speed printing without shake. Adjustable printer stand and feet ensures printer level. Meanwhile, emergency stop button and anticollision device assist customer to make sure printer's stablity and performance in emergency situations.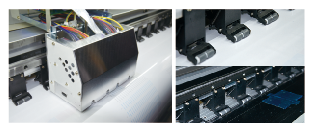 5.Stable Bulk System Ensures Amazing Printing Speed
Ink cartridges of clamping slot type is easy to install and replace, bulk system ensures continuous smooth ink flow and stable printing. Besides, PWC device assists the bulk system to protects the nozzles from being blocked.






6.High Stablity, High Durablity
All-steel struction, igorous and precise manufacturing process even for a small screw, together with international brands such as THK, ensure the stablity and durablity.



Applications:
Wide Range of Application Coverage
Choose ME-1800THT sublimation printers for reliable transfers of rich, saturated colors with exceptional print quality, all at an affordable price.
--Soft signage and exhibits
Soft signage delivers a sophisticated, upscale look that commands premium pricing.
--Heat transfers for apparel
Produce high-quality, custom-decorated sportswear to help teams look and perform their best.
--Interior decoration
Now you can offer your customers colorful,coordinated, custom interior decoration items, from wall coverings and artwork to drapes and furniture covers.
--Individualization Product
Create mouse pad and other personalized product.
--Heat transfers for porcelain
Produced various elegant coffee cups, tea cups, monuments cups, etc.
Why Choosing Us?
1.Strict Quality Control: We have Strict Quality control both for the original Material and finished Goods. QC before delivery is also what we need for each order.
2.One stop Solution: We offer a wide range of sublimation paper, dye sublimation ink and transfer paper. Making you able to source all the items you need.
3.Fast Delivery: We offer one week delivery for most paper orders. And 2-3 weeks production lead time for other sublimation inks.
4.Responsible after sale service: As a responsible company, we never make any exercise for mistakes, clients comes first, any complaint is supposed to be settled in a responsible manner.